To:

United States Bishops
Tell U.S. Bishops to Work With Catholics to Build a Church for Our Daughters

FutureChurch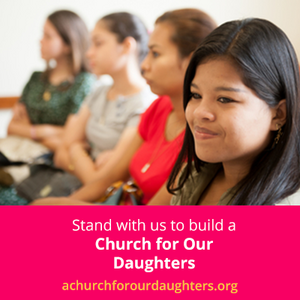 We are women and men, sisters and brothers, grandmothers and grandfathers, aunts and uncles, mothers and fathers, godparents -- members of the Catholic community who are deeply committed to the Gospel of Jesus Christ, and who believe the Body of Christ must include all genders equally. Today, we call on our Church leaders to work with us to build a Church that strikes down every oppressive practice, teaching, and law that assigns women and girls to a subordinate status. We call on our leaders to create a Church that is truly inclusive and alive with the gifts, spirit, and potential of all its members.
A Church for our daughters is a community that
• recognizes that all people are created in God's image and equally endowed with the gifts of the Holy Spirit for the common good.
• honors the vocations and ministries of all its members, fostering and welcoming all called to priesthood, diaconate, and liturgical leadership.
• opens its sacred sacraments to all, as nourishment and ritual without limitations based on gender or sexuality.
• celebrates the witness and contributions of our foremothers in faith – those in Scripture, those in our tradition, and those who walk with us today.
• affirms the spirit of the divine present in the gifts, needs, and dreams of all God's people.
• celebrates and promotes a spirituality that recognizes an inclusive God, beyond gender, and incorporates language that is inclusive and representative of God's feminine, masculine, and non-gendered attributes in liturgy, doctrine, and pastoral practice.
• honors women's moral agency to make decisions that impact their health and family life.
• takes a firm and proactive stand opposing all forms of exploitation and violence perpetrated against women.
• advocates for social structures that support and sustain the basic needs of women including access to clean water, clean air, adequate housing, food, security, education, the workforce, political and social engagement, and freedom of movement.
• advocates for education for all our children, but especially for our daughters around the world who face daily acts of discrimination and violence in their quest for knowledge.
• works to dismantle oppressive structures and customs that disproportionately impact women creating inequality in pay, employment opportunities, development of public policy, and property ownership.
• works to eradicate destructive forces that triply oppress women of color such as racism, religious intolerance, and unequal access to social goods.
• honors and justly compensates the contributions of women working in the Church including equal pay, equal access to job opportunities, healthcare, and paid family leave.
• seeks to be fully inclusive and representative of women and to integrate their wisdom and insights in all areas of Church life including governance, decision-making, teaching, theological reflection, and canon law.
• commits to reflect on its own participation in the oppression of women; to repent for unjust acts, systems, and teaching; and to renew structures of leadership to be more inclusive of the People of God at every level.
We pray together as a family of the faithful with the vision of a Church community that at its core upholds the full equality of all of its members.
Signed:
8th Day Center for Justice - Women in Church and Society Committee.
A Critical Mass:Women Celebrating Eucharist
American Catholic Council
Association for the Rights of Catholics in the Church (ARCC)
Association of Roman Catholic WomenPriests
Boulder WomenEucharist
Call To Action
Catholics for Choice
Catholics for Choice Canada
Chicago Women-Church
CORPUS
DignityUSA
Ecumenical Catholic Communion
Federation of Christian Ministries (FCM)
FutureChurch
Greater Cincinnati Women-Church
Louisville Women-Church
National Coalition of American Nuns (NCAN)
New Ways Ministry
Quixote Center / Catholics Speak Out
RAPPORT
Radical Grace
Roman Catholic Womenpriests RCWP-USA
San Francisco Bay Area Women-Church
Southeastern Pennsylvania Women's Ordination Conference
Women's Alliance for Theology, Ethics, and Ritual (WATER)
Women-Church Baltimore
Women-Church of Central New Jersey
Women-Church Convergence
Women's Ordination Conference (WOC)
Why is this important?
It's time for our Church leaders to work with us to build a Church that strikes down every oppressive practice, teaching, and law that assigns women and girls to a subordinate status. So that our daughters and yours may know radical inclusion and justice, equality without qualification, and an institution that transforms oppression into love without bounds, we must build a Church for our daughters.
PLEASE JOIN US IN SIGNING THIS PETITION AND FOR MORE ACTIONS ON JUNE 14, 2016! Learn more at AChurchForOurDaughters.org.
How it will be delivered
This petition with signatures will be delivered to U.S. bishops at the June 2016 USSCB meeting during a press conference. We will also deliver the petition with signatures by email to each U.S. bishop.