To:

President Obama
Tell President Obama: You left out the migrant children and families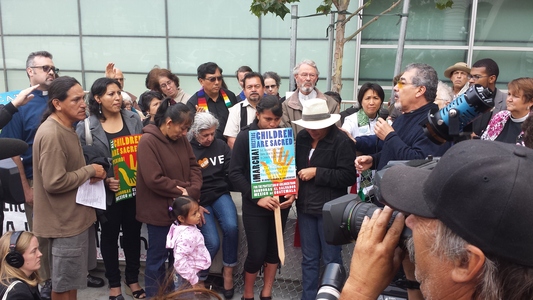 President Obama: You left out the most vulnerable immigrants: children and refugee families, who are seeking protection from violence here in the US. Instead of welcoming and protecting them, we are using the resources of our nation to deport them as quickly as possible. This is not who we are as a nation. We ask you to protect them by providing refugee status or humanitarian relief immediately.
Why is this important?
On November 20th, 2014 President Obama announced modifications to immigration policy, providing temporary relief from deportation to many undocumented Americans, recognizing the values of family unity and the inalienable human rights of our immigrant sisters and brothers.
The President's relief action, however, has left out the most vulnerable population: Children and others who have fled terror and violence, seeking safety and protection with family members living here in the United States.
This year we witnessed one of the largest refugee crises in the Western hemisphere, with 69,000 unaccompanied migrant children, half of whom are girls, arriving at the US border. They are primarily from four countries: Honduras, El Salvador, Guatemala and Mexico. An equal number of adults, many traveling with their young children and families, also arrived this year.
In every way, they are refugees. They are fleeing unspeakable violence and harm: death threats, rape, extortion by organized crime, and other forms of terror and violence. Honduras has the #1 murder rate in the world; El Salvador #4; Guatemala #5. Their governments either will not or cannot protect them from harm. Additionally, they have experienced terrible trauma on the perilous journey to the US border, often traveling on the tops of trains, overtaken by gangs and corrupt police forces.
In every way, they are refugees; but the Obama administration is not treating them as refugees, but criminalizing them for seeking protection and safety.
Instead of being housed by refugee agencies, they are arrested and detained in family immigration detention centers. See http://grassrootsleadership.org/facts-about-family-detention
Instead of being welcomed and supported, our nation's resources are being used to deport them and send them back to danger. Their deportation cases are being expedited on "rocket dockets," forcing children and families to appear quickly in immigration court, in some cases with as little as one week or a few months. This gives impossibly little time to find an attorney and adequately prepare a viable aslyum case. Rocket dockets are compromising due process under national and international law.
Immigrants are not provided attorneys, and many are unable to obtain or hire an affordable attorney in such a short time. 70% of migrant children cannot afford an attorney. Without an attorney, children as young as 2 years old, would be required to represent themselves before an immigration judge. 9 out of 10 children without attorneys will be deported.
Asylum laws are outdated and do not adequately protect people fleeing from the kind of harm currently facing people from Mexico and Central America, such as persecution by organized crime, gangs, and narco traffickers.
WHAT PRESIDENT OBAMA MUST DO:
We are a nation that believes in providing safe haven for those facing persecution and threats to life.
Pope Francis declared on July 15, 2014 "This humanitarian emergency requires, as a first urgent measure, these children be welcomed and protected." And that these measures "must be accompanied by policies that inform people about the dangers of such a journey and, above all, that promote development in their countries of origin."
The United Nations High Commission on Refugees (UNHCR) Senior Protection Officer, Leslie Velez, testified before the United States Congressional House Judiciary Committee, June 25, 2014, that the children require international protection.
As people of faith and people of conscience, we see all children as our children. We believe that all children must be ensured international protection and be treated with dignity and respect. We believe we are called to care for all children, as if they were our own.
President Obama just protected up to 5 million immigrants. Surely he can do the same for approximately 120,000 Central American and Mexican children, individuals and families who should be considered refugees and kept safe from harm.
Some of us are Sanctuary congregations, joining together with other People of Conscience. We will not allow these child and refugee families to be sent back. If our government will not protect children, we, Sanctuary and people of conscience, will.
Petition Co-Sponsoring Organizations: University Lutheran Chapel - Berkeley, The East Bay Interfaith Immigration Coalition, Interfaith Coalition for Immigrant Rights- CLUE,
How it will be delivered
We are seeking organizations to co-sponsor this petition, to help circulate this to their networks, and grow the call for humanitarian protection.
Locally we are also standing witness and collecting signatures outside the Immigration Courts - which are conducting the "kids court" where children and families bravely seek to fight being deported back to danger and death.
We will be asking co-sponsoring organizations to help deliver the petition in person as part of a press conference.