To:

Bishops Participating in the Synod on the Family
Join Archbishop Durocher and Urge the Synod to Consider Greater Roles for Women in the Church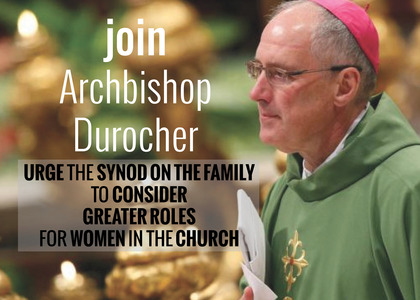 Support Archbishop Durocher as he calls upon bishops participating in the Synod on the Family to take up the discussion of greater roles for women in the Church, including ordaining women to the diaconate.
Why is this important?
Pope Francis has repeatedly called for a "more widespread and incisive female presence" in Church. One Canadian Archbishop, Paul-Andre Durocher of Gatineau, Quebec, is taking that call seriously by proposing that the Synod on the Family, which is currently under way in Rome, reflect on the possibility of bringing more women into leadership and decision making and to open the way for female deacons.
Ordaining women deacons would make for "a more widespread and incisive female presence" in many aspects of Church life and ministry. Women deacons would be able to preside at baptisms and weddings as well as proclaim the Gospel and preach at Mass.
Having women ordained to serve in these roles would help bishops meet many of the Church's ministerial needs in the face of the present priest shortage. Additionally, the presence of women in these roles would bring an urgently needed female perspective to our public worship and reflection on the Scriptures.
Ordaining women to the diaconate would not be new. Recent scholarship has shown that women were ordained to the diaconate in the Church in the West for 1200 years and to the present in the East. Women deacons number among ministers named in the Bible and manuscripts of medieval texts used by bishops include prayers and rituals for ordaining women to the diaconate. It is time to restore that tradition.
Women are ready to serve. According to a 2015 study conducted by the Center for Applied Research in the Apostolate at Georgetown University, 80% of trained, paid lay ecclesial ministers currently working in the Church in the United States and 58% of students currently enrolled in formation programs for ministry are women. In those dioceses throughout the country that have restored the permanent diaconate, the wives of men who became deacons were required to attend the same formation programs. All of these women constitute a large pool of potential ministers who could be readily – if not immediately—available to serve in the diaconate and other decision-making roles in the Church.
We urge the Synod on the Family to consider greater roles for women for the good of the Church.