To:

Brooklyn College President Karen L. Gould
Brooklyn College: Stop Defamation of Religion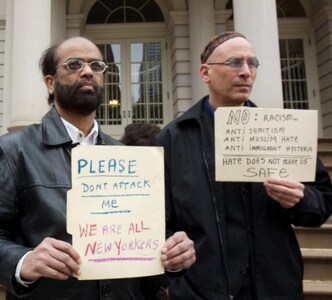 Publicly Oppose the Divisive and Defamatory Message that Pamela Geller is Bringing to Campus on April 22 and End Double Standards in Hate Speech.
Why is this important?
Pamela Geller is an infamous anti-Muslim zealot who instead of targeting extremists has made a career harassing mainstream Muslim Americans.
Hatred against minority groups (Blacks, Gays, Jews and others) is increasingly unwelcome on campuses around the country. Unfortunately, Geller's organization, Stop the Islamization of America (SIOA), was designated as a hate group by the Southern Poverty Law Center (SPLC) but that does not stop New York's MTA and other mass transit systems from accepting her defamatory ads on trains and buses and platforms.
Despite mass transit's reluctance to post all the ads because of the trouble they could incite or provoke, courts have forced MTA and SEPTA (in Philadelphia) to post Geller's ads because of their readings of 1st Amendment protections. Sad to say, Geller and her lawyers have distorted the principles of free speech by ranging far beyond political critique to outright lies designed to equate Islam (a religion of 1.2 billion people) with Nazism and with Savagery. This campaign has a harshly negative effect on Muslims living in New York and in other locations featuring her messaging. nor is it conducive to encouraging Muslims to work in partnership to confront the challenge we all face.
Such anti-Muslim prejudice is often cited as a reason for the worsening cycle of violence abroad, perpetrated by Muslims and non-Muslims alike. For example, terrorist Anders Breivik referenced Geller's hate blog a dozen times in his manifesto before he killed more than 70 people in two attacks in Norway, seeking to justify his attacks.
A clear link exists between anti-Muslim messaging and harassment. Students of Brooklyn college should be protected during this time and also hear a message of support from the President's Office.
As an educational institution, Brooklyn College is a space for free debate but the school (its administration and the student community) should ensure a level of quality as well as accuracy of information. This can be accomplished through organizing debates on the claims and distortions made by Ms Geller and other Islamophobes; disseminating accurate information regarding diverse faith traditions, cultures and ethnic groups; and investigating any financial and social relationship between hate groups and the academic institution.