To:

Fellow Faith Leaders
Faith Leaders Remain Vigilant After Cancellation of Anti-Muslim Rallies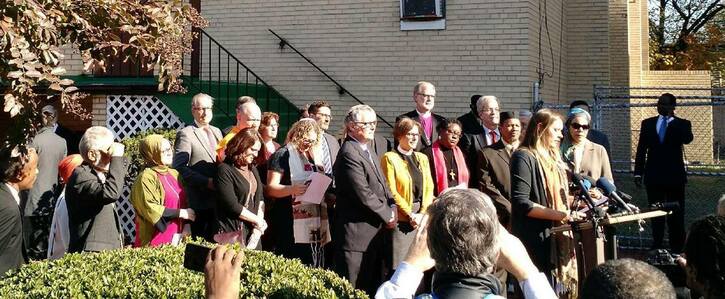 We invite our fellow faith leaders to join their voices with us in speaking out after the cancellation of these anti-Muslim rallies
Why is this important?
WE STAND TOGETHER AGAINST HATE
While some right-wing extremists seek to take the kind of hate we saw in Charlottesville and target Americans who are Muslim, people of faith and good conscience must consistently and forcefully reject bigotry and defend our values.
We, the undersigned clergy and faith leaders from diverse communities and traditions, reject the white supremacist and nationalist ideology driving far-right extremists. We applaud the fact that ACT for America's rallies that were scheduled to take place on September 9 have been cancelled. While the rallies have been cancelled, ACT for America is still planning a day of online action. Hateful rhetoric has dire consequences, and we will continue to speak out against hatred and bigotry, whether it is enacted in public or online. These events make a mockery of our Constitution's religious freedom protections.
We are stronger when we come together as Americans of diverse faith backgrounds, and weaker when we let politicians and hate groups divide us. Americans who are Muslim deserve the same dignity, fairness and respect as all Americans. We continue to stand together, shoulder to shoulder, to uphold and further our nation's highest ideals.
Rev. Ron Stief, Executive Director, National Religious Campaign Against Torture; Chair, Shoulder to Shoulder Campaign
Kathryn Lohre, Assistant to the Presiding Bishop; Executive, Ecumenical & Inter-Religious Relations, Evangelical Lutheran Church in America
Dr. Tony Kireopoulos, Associate General Secretary, National Council of Churches
Rabbi Nancy Fuchs Kreimer, PhD, Director, Department of Multifaith Studies and Initiatives; Associate Professor of Religious Studies
Reconstructionist Rabbinical College
Rev. Shannon Jammal-Hollemans, Racial Justice Team Leader, Christian Reformed Church in North America
Rev. Dr. Reginald Smith, Director, Offices of Race Relations and Social Justice, Christian Reformed Church in North America
Rev. Dr. Steven Timmermans, Director, Christian Reformed Church in North America
Rev. Richard Killmer, Special Representative, Office of Social Justice, Christian Reformed Church in North America; Co-Founder, Shoulder to Shoulder Campaign