To:

Archbishop Cordileone
Girls Belong at the Altar! Support Altar girls in San Francisco parish

Call to Action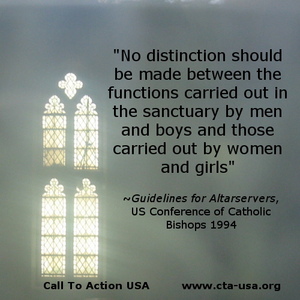 We respectfully request that you reverse your decision to allow Fr. Illo to ban girls from being altar servers at Star of the Sea School. We value the girls' participation in our Church. We believe serving at mass is not a priestly function, and it is not a recruiting tool for the priesthood. This ban sends our girls the wrong message and is in direct conflict with the Pope's direction to increase women's roles in the church.
Please, don't allow Fr. Illo to use out-of-date liturgical norms to discriminate against our daughters and hurt all of us!
Why is this important?