To:

Director Jeffrey Lynch
Jeanette's Family Needs Her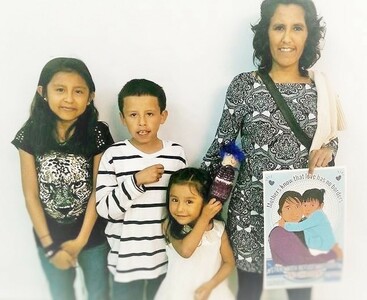 Grant Jeanette Vizguerra's (A# 089-826-036) stay of removal application for a period of two years or to close her case.
Why is this important?
Jeanette Vizguerra, a Colorado community leader and mother, is facing deportation. Jeanette has led the fight against her own deportation since 2009, part of her secret to success is her die hard community. She needs it again, today! Share this and spread the word.
Jeanette has lived in Colorado for twenty years, has 3 small children who are US citizens and has given selflessly as a community activist. She worked for SEIU as a labor organizer and volunteered with her children's schools, the Aurora Neighborhood Watch Program, Rights for All People, the American Friends Service Committee and contributes to the Romero Troupe. She founded Dreamers Mothers in Action-Colorado.
Jeanette has worked hard to build her community in Colorado and has inspired many with her courage and passion. Jeanette's story exemplifies the brutality of our immigration system that is unjustly separating families and denying many the ability to live with dignity. Although this immigration system has tried to destroy Jeanette's dignity, she is still fighting to be with her children and she needs our support!!
History:
Jeanette Vizguerra (A# 089-826-036), came to the US in 1997 with her husband and daughter. They fled after her husband, a bus driver, had been threatened at gun point for the third time. Jeanette worked cleaning office buildings and became a key member of her SEIU local, 105. Eventually she became an organizer, leading the fight for better pay and benefits for all janitors. She also joined a local advocacy group called Rights for All People as one of its founding members. She worked to establish trust and relationship between the immigrant community and the police. She and her husband started a moving and cleaning company and eventually had three more children, all US citizens.
Jeanette's case began in 2009 when she was pulled over for an expired license plate and then arrested for driving without a license (at that time Coloradans couldn't get a license if they couldn't prove status). That traffic stop led to a police officer discovering documents she was going to use to apply for a third job this discovery resulted in a misdemeanor. The economic downturn had impacted the moving company and her husband had taken ill so she was the only breadwinner for her family.
In 2013, as she was awaiting an appeal in her case, she received a call from Mexico that her mother was dying. Despite 17 years in the US and thousands of miles, Jeanette and her mother spoke weekly. There are no humanitarian visas or programs available for those circumstances and Jeanette decided she had to be at her mother's side before she died. She flew to Mexico the next day and, as she was in the air, her mother died. After 7 months of trying to build a life and send for her children, it became clear to Jeanette that at 40 she was too old to get good paying work in Mexico and decided to return to the US. She was detained at the border, and with the help of community, released back to Denver, where she has continued to pick up the threads of her life.
This is why Jeanette needs your support. Sign and share this petition widely.
http://www.groundswell-mvmt.org/wp-content/uploads/2015/04/Jeanette.png