To:

Honorable Judge Palomino
Justice for Martinez Family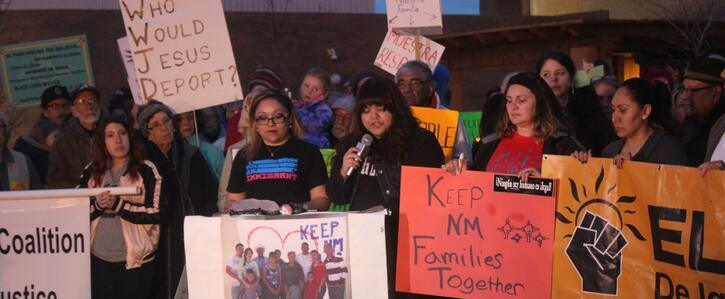 Dear Honorable Judge Palomino,
Juan Martinez came to the United States in 2001. He has been in detention in Otero County since last December. He is the father of four girls, ages 17, 12, 11 and 7. He is an auto mechanic and has his own business. He is a hard-working man and the sole breadwinner of his family.
His wife, Hilaria, has worked nearly as a full-time volunteer in her daughter's school up until Juan's detention. She is now faced with determining how to support her family given that she has no stable work or income.
Juan has been involved in fundraisers for Albuquerque Public Schools, where his daughters attend. He is not a threat to the community or a flight risk, rather, an upstanding member of the community. Hilaria has received more than 20 letters of support from his clients, her children's teachers, friends and her daughters' therapist.
The federal government is trying to tear apart his family. This is the only family he knows and he does not have any connections in Mexico. All of the children have been traumatized by their father's detention. Litzy and Stephanie, the two oldest daughters are in counseling. The teacher of their third daughter, Melanie, told Hilaria that Melanie's behavior in school has changed dramatically. She has become sad and withdrawn, not participating and enjoying school like she was previously. The youngest, Dasha, is often found crying and has panic attacks. Hilaria had not spent one night away from her husband until his detention.
This has all put a tremendous burden on Hilaria, not only to provide emotional support for her children, but also financial support. We ask that the court set a low bond for Mr. Martinez given these circumstances so he can be reunited with his family and have more direct contacting with his immigration lawyer as he pursues possible immigration relief.
-----------------------------------------------------------------------------------------------------------------------------------
Juan Martínez llegó a los Estados Unidos en 2001. Juan ha estado detenido en el condado de Otero desde diciembre pasado. Él es el padre de cuatro niñas, de 17, 12, 11 y 7 años. Él es mecánico de automóviles y tiene su propio negocio. Él es un hombre trabajador y el único sostén de su familia.
Su esposa, Hilaria, ha trabajado como voluntaria casi de tiempo completo en la escuela de su hija hasta la detención de Juan. Juan ha participado en la recaudación de fondos para las Escuelas Públicas de Albuquerque, donde asisten sus hijas.
El gobierno federal está tratando de separar a su familia. Le pedimos a la corte que establezca un vínculo bajo con el cual Juan pueda reunirse con su familia mientras busca un posible alivio migratorio.
Why is this important?
It is important that families like the Martinez family are not separated by broken immigration policies. It is crucial that U.S. citizen children like those of the Martinez family are not separated from their parents and family members. U.S. children should not have to be going through the psychological traumas of family seperation.
-------------------------------------------------------------------------------------------------------------------------------------
Es importante que familias como la familia Martínez no estén separadas por políticas de inmigración. Es crucial que los niños ciudadanos de EE. UU. como los de la familia Martínez no estén separados de sus padres y familiares. Los niños de EE. UU. no deberían tener que pasar por los traumas psicológicos de la separación de la familia.