To:

ICE Office of Chief Counsel & ICE Enforcement and Removal Operations,
Stop the Deportation of Oneita, Clive and Suyapa so They can Keep Their Families Together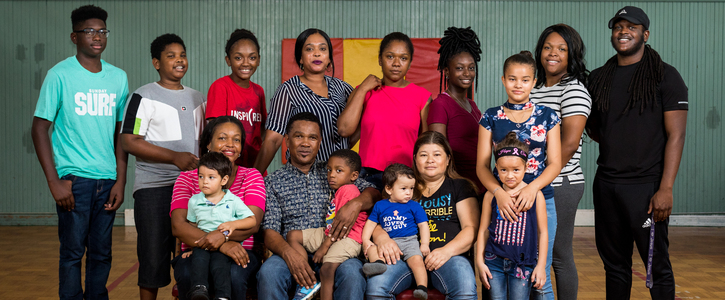 *Espanol abajo*
Stop the deportation of both families so Oneita, Clive and Suyapa can keep their families together and protect the lives of their children. Both families are mixed- status families - some are undocumented, some have green cards, some are U.S. citizens. Both families have been living in the U.S. for years and complying with what ICE asked of them. Oneita and Clive came here from Jamaica 15 years ago fleeing violence. They have seven children, two of whom are citizens. Their asylum case was wrongly denied, and they now face being separated from their seven children. They take Sanctuary with their two youngest. Suyapa and her five children are from Honduras and came here four years ago fleeing violence. Suyapa's asylum case was also wrongly denied. Suyapa enters Sanctuary with four of her five children.
Suspendan la deportación de Oneita, Clive y Suyapa para que puedan mantener a sus familias unidas y sigan protegiendo las vidas de sus hijos. Ambas familias tienen un estatus migratorio mixto — algunos de sus miembros son indocumentados, otros tienen credenciales de residencia permanente, y otros son ciudadanos de los Estados Unidos. Las dos familias han vivido varios años en este país y han seguido con cuidado todas las indicaciones y demandas de ICE. Oneita y Clive llegaron aquí hace quince años, escapando de la violencia que sufrieron en Jamaica, donde nacieron. Tienen siete hijos, de los cuales dos son ciudadanos. Su solicitud de asilo fue negada erróneamente y ahora se enfrentan a la posibilidad de ser separados de sus siete hijos. Se encuentran en Santuario con dos de ellos, los más pequeños. Suyapa y sus cinco hijos son de Honduras y llegaron aquí hace cuatro años, también huyendo de extrema violencia. Su demanda de asilo fue rechazada en forma igualmente arbitraria. Suyapa está en Santuario con cuatro de sus hijos.
Why is this important?
Both families are making the hard, but bold decision to enter Sanctuary to protest immoral and unjust immigration policies. They are only two examples of the millions of people who have been affected by the Trump Administration's extremist anti-immigrant agenda. Separating children from their parents at the border, ending TPS for many countries, increasing enforcement and arrests, and changing asylum rules to exclude victims of domestic violence and gang violence are some of the policies that devastate immigrant communities here in Philadelphia and across the country. It also shows that the Trump Administration separating families does not just happen at the border, but everywhere in the country when people are detained or deported. This is a moral crisis. These two families from the Jamaican and Central American communities stand together to challenge these policies, showing that this is not just a Latinx issue, but one that affects all immigrant communities.
In taking Sanctuary, they step into a tradition thousands of years old that confronts immoral and unjust laws. The First United Methodist Church of Germantown (FUMCOG) was part of the Sanctuary Movement in the 1980s. In September 1984, FUMCOG provided Sanctuary to a Guatemalan couple fleeing persecution and organized to change U.S. policy. Thirty-four years later – almost to the day - they again answer this sacred call in an urgent time.
Please support Oneita, Clive, Suyapa and their families by signing and sharing this petition.
¿Por qué es importante esta petición?
Estas dos familias han hecho la decisión, a la vez difícil y valiente, de acogerse al Santuario para oponerse a las políticas migratorias inmorales e injustas que los ponen nuevamente en peligro. Como ellos hay millones de personas que han sido afectadas por la actitud extremista que el Presidente Trump ha mostrado en contra de los migrantes. Sus políticas han aterrorizado a las comunidades de emigrantes, tanto en Filadelfia como en el resto del país, entre ellas la separación de padres e hijos menores de edad en la frontera, la cancelación inesperada de los permisos especiales de permanecer en el país otorgados a víctimas de desastres naturales (TPS, o estatus legal temporal), los numerosos arrestos y detenciones que siembran miedo, y los repentinos cambios en la validez de la violencia doméstica o la continua amenaza de las maras (pandillas armadas) en el país de origen como base para reclamar asilo político. Es claro, además, que la separación de las familias no afecta solamente a los nuevos migrantes que llegan a la frontera sur, sino a los que residen en cualquier parte del país. Estamos viviendo una crisis moral. Estas dos familias, pertenecientes a la comunidad jamaiquina y la centroamericana, se han levantado para desafiar estas acciones, demostrando que no importa el país de origen de los migrantes, todos podrian ser rechazados con la misma arbitrariedad.
Al acogerse en Santuario, estas familias recurren a una tradición milenaria que confronta leyes inmorales e injustas. La Primera Iglesia Metodista de Germantown (FUMCOG, por sus siglas en inglés), en Filadelfia, fue parte del Movimiento Santuario de la década de 1980. En 1984 le abrieron sus puertas a una familia de Guatemala. Treinta y cuatro años más tarde, casi exactamente en la misma fecha, vuelven a proclamarse Santuario para dos familias, respondiendo a un deber sagrado en un tiempo de enorme urgencia.
Por favor apoyen con su firma a Oneita, Clive, Suyapa y sus familias, y compartan esta carta con sus amigos y comunidades.