To:

Attorney General Loretta Lynch, Department of Justice; Waller County Sheriff Glenn Smith
People of Faith Stand with Sandra Bland's Family to Demand Justice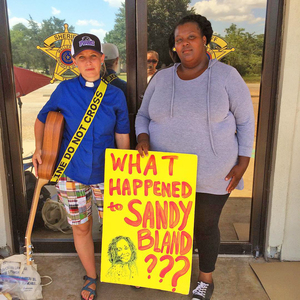 As people of faith and moral courage, we stand with Sandra Bland's family to demand the Dept. of Justice open an investigation in the suspicious death of Sandra Bland, call for the immediate termination of Officer Brian Encina who unlawfully arrested her, and uphold the right of clergy and others to peacefully vigil free of intimidation, harassment and fear at the Waller County Jail where Sandra died.
Why is this important?
On the morning of July 13, 2015, Sandra Annette Bland was found dead in her jail cell at the Waller County Jail in Hempstead, TX.
The video of Sandra's brutal arrest confirms she was subject to a violent, racist and traumatic encounter with the police. And though we still don't know what happened next, one thing is clear: a traffic stop for a failure to signal should not lead to death.
Since Sandra's death, clergy and others have been keeping a daily vigil outside the Waller County Sheriff's Office and County Jail. The lack of transparency surrounding both Sandra's death and arrest has led to a national outcry demanding #Justice4Sandy.
We want people to know that Sandy still speaks; her voice can't be silenced.
But over the past week, opposition to our peaceful vigil has escalated – and we are being harassed by law enforcement. First, the space where we gathered was barricaded. Then the tree providing shade for our vigil were cut down. We continue to receive death threats and were told by Waller County Sheriff Glenn Smith to "go back to the church of Satan that you run."
As people of faith and moral courage, we condemn these acts and stand with the Bland family in their pursuit of justice for Sandra. Specifically we're demanding the Department of Justice:
1) Open an investigation into the suspicious circumstances surrounding Sandra's arrest and death.
2) Call for the immediate termination of Officer Brian Encinia who unlawfully arrested Ms. Bland.
3) Uphold the right of people of faith to peacefully assemble and protest free of intimidation, harassment, and fear.

OUR VALUES
The Black Lives Matter movement awoke our national consciousness to the persistent system of white supremacy and structural racism that penetrates each of our institutions. As people of faith and moral courage, we have a responsibility to stand in the gap of this broken system that has taken the lives of so many people. Amplifying stories like Sandra's is one step in building a world where Black lives matter, and all of us can live in safety and peace.
We invite people of faith to support the Bland family's demands for justice for Sandra, and defend our ability to mourn and vigil.
How it will be delivered