To:

Kentucky People of Faith
MAY 17: Biblically-Based Advocacy Strategies for Immigration Reform

Kentucky for Immigration Reform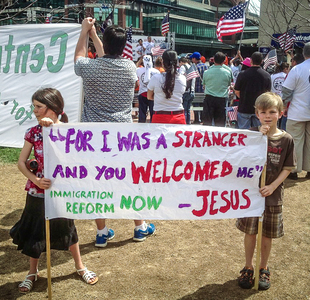 Biblically-Based Advocacy Strategies for Immigration Reform – "For Such a Time as This" (Esther 4:14)
On Friday, May 17th from 6:00-8:00 pm at Embrace UMC (Epworth Campus) we will gather to receive training in Biblically-based advocacy strategies for immigration reform and to engage in developing a plan for reaching Kentucky legislators.
The training and Q&A will be facilitated by Pastor Alexia Salvatierra who is one of the co-founders of the national evangelical organizing table and works for World Vision training congregations nationally and internationally.
Please RSVP for the event by signing to the right.
Estrategias Biblicas para Alcanzar la Reforma Inmigratoria – "Para esta hora" (Ester 4:14)
El Viernes, 17 de Mayo de 6:00-8:00 pm en la iglesia "Embrace UMC (Epworth Campus)" juntaremos lideres cristianos para recibir capacitacion en abogacia bibilica para la reforma y ayudar con la formacion de un plan para alcanzar a los legisladores.
La Pastora Alexia Salvatierra es una de los fundadores de la Mesa y trabaja con Vision Mundial, enseñando y capacitando a congregaciones en la nacion y el mundo.
Habran interpretes disponibles durante el evento.
Why is this important?
We are closer to reforming our broken immigration system than we have been for many years. However, the outcome is far from sure. At this historic moment, Christians have a unique role to play in the achievement of a fair system that reflects biblical values.
Estamos casi al punto de lograr una reforma de nuestro sistema inmigratorio roto. Pero nada es seguro. En este momento historico, tenemos un papel muy importante como cristianos. Nosotros podemos asegurar que alcanzaremos un sistema justo lo cual refleja los valores biblicos.
Location:
Embrace UMC (Epworth Campus)
1015 N. Limestone
Lexington, KY
For More Information:
Steve Pavey - [email protected]
Rev. Chal Knox - [email protected]