To:

call out the injustice of the immoral New York State budget
RSVP: Moral Monday on March 3rd at Gov. Cuomo's office in NYC

Moral Mondays NYC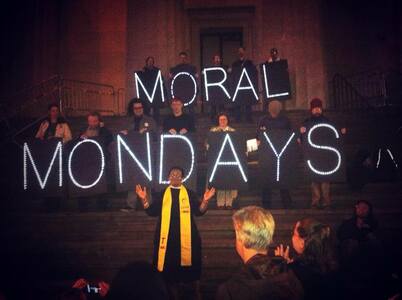 JOIN us for the first of four weekly actions this coming Monday, March 3rd at the NYC office of Gov. Cuomo.
*We'll gather at 11 am* in The Hardin Room on the 11th floor of 777 UN Plaza, the Church Center for the UN (at the corner of 1st and 44th).
*Then proceed at 12 pm* to the governor's office at 633 3rd Ave to protest and to pray. Bring a pillow for your knees!
At this first action, no civil disobedience is planned.
Why is this important?
Inspired by the Moral Mondays protests in North Carolina, shocked by a city political system that governs on behalf of the wealthiest at the expense of the rest of us, we are called by conscience to mount a Moral Mondays campaign in New York City.
We are clergy, chaplains, and people of conscience—of many different faith traditions, and of none—who find our city in a crisis and ourselves on the front lines.
Monday, March 3rd we're turning our attention to the budget of New York. Unfortunately, New York State has abandoned its moral responsibilities to the poor in favor of policies that promote and preserve wealth for the few.
We reject its tax breaks for the wealthiest among us that require teachers, healthcare workers, and librarians to live on less. We cannot accept a state that denies children the educational resources they need to succeed; that requires young people to go deeper into debt for college, and the elderly to live with less care. We cannot accept a state that denies the homeless and hungry in our state the services they need.
Please RSVP to join us on Monday, March 3rd to call out the injustice of the immoral New York State budget.
If you can't make it, please add your name to the petition in solidarity: http://action.groundswell-mvmt.org/petitions/new-yorkers-for-a-moral-budget