To:

MCC of Our Redeemer in Augusta GA
Say No to Hate! Sign a letter of support to Metropolitan Community Church of Our Redeemer in Georgia

Metropolitan Community Church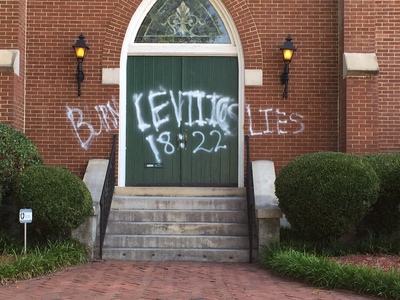 Through the support of this campaign, create secure sanctuary space for the congregants and community that is free of hate and violence.
Why is this important?
Metropolitan Community Church of Our Redeemer was desecrated by a spray painted hate message that quoted Leviticus 18:22 and threatened the church with burning.
"We are clear this is not just vandalism; this is life-threatening hatred. When people who cite chapter and verse to send others to hell, they are usually prepared to personally send you there," said Global Moderator Rev. Dr. Nancy Wilson. "It is sad that we have to remind people that hate is not a Christian value."
"As an African American woman, I know that hate is hate. Whether it is the shooting of the Charleston nine, burning of churches, or spray painted threats on church doors, the intent is to silence us with fear for our lives," said the Rev. Elder Darlene Garner, MCC Director of the Office of Emerging Ministries. "We will not be silent! Silence will not protect us. It will only embolden those who use guns, torches, and spray paint because they have not opened themselves to the power of love."
Send your love by adding your name, and if you can go the extra mile, make a donation for the repairs and the security system at:
http://www.gofundme.com/mccofourredeemer