To:

President Trump, Vice President Pence, Speaker Pelosi, Majority Leader McConnell, Surgeon General Adams and members of the White House Coronavirus Task Force
We Call For An Immediate Federal Response To Address Racial Inequities In Deaths Due To COVID-19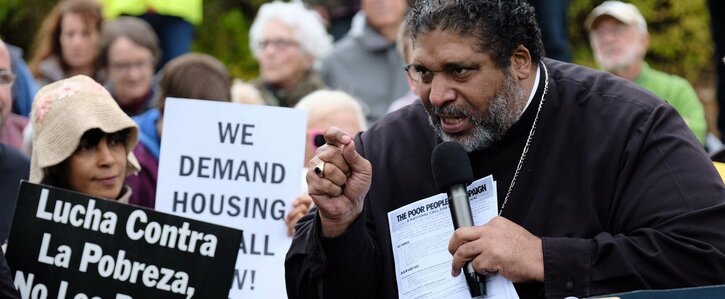 As pastors from across the country, we know firsthand and have had to bear witness to the deaths of African Americans from COVID-19 and the heart-wrenching pain experienced by the families and communities left behind. It is for this reason that we stand with our communities which, for far too long, have endured the structural racism and policy violence that is leading to the alarming number of deaths in Black communities.
Over the past two weeks, data from across the country have revealed
staggering racial inequities in deaths due to COVID-19: In Michigan, Blacks make up 14% of the population but account for 50% of deaths; in Louisiana, Blacks make up 32% of the population but account for 71% of deaths; and in Mississippi, Blacks make up 38% of the population but account for 67% of deaths. These racial inequities reflect underlying structural inequalities and lay bare the interlocking systems of racism and marginalization that have their origins in the genocide of Native American peoples and enslavement of African peoples, which together constitute the foundation upon which this nation was built. While the virus itself does not discriminate, its propagation within a society steeped in structural racism and the reckless and uncoordinated response to the COVID-19 pandemic by this administration have led to avoidable and unnecessary death that is wreaking havoc on Black communities.
We decry the callous and misguided rhetoric from places of power that blames Blacks for these deaths without acknowledging that our people are over-represented among low-wage essential workers; often live in racially segregated inner cities and rural communities that have been neglected for decades; are less likely to have access to high-quality, affordable health care; are disproportionately uninsured and underinsured; face bias and discrimination within health care settings; and are over-represented among the prison population all of which lead to racialized patterns of survival.
Why is this important?
Like the prophet Isaiah, we say: "Woe to those who make unjust laws, to those who issue oppressive decrees, to deprive the poor of their rights and withhold justice from the oppressed of my people, making widows their prey and robbing the fatherless." In this moment, we serve notice to the powers and principalities that the Righteous God we serve compels us to demand:
1) the Trump administration immediately and fully, with equity and compassion, utilizes the power of the Defense Production Act of 1950 to mobilize manufacturers to produce the necessary personal protective and life-saving equipment such as facemasks, gloves, and ventilators. These materials must be equitably distributed (without excessive price gouging) and readily available in health care and social service settings that serve Black and poor communities; for low-wage essential workers on the frontlines of the pandemic; and in congregate settings such as prisons and homeless shelters.
2) the Trump administration works with state and local public health officials to set up testing sites and field hospitals in Black and poor communities hit hardest by the pandemic with a focus on communities in rural and urban settings that have experienced a massive wave of hospital closures over the last 10 years.
3) the Trump administration calls on the 14 states that have not expanded Medicaid to do so now and that all states provide immediate eligibility for Medicaid to workers who become unemployed during the pandemic.
4) Congress passes a fourth COVID-19 recovery bill that focuses on communities of color and poor and low-wealth communities and that it ensures living wages and paid sick leave for all employees, adequate childcare, rent forgiveness, a full moratorium on utility disruptions and high-quality, free, universal, health care as a human right.
5) the federal government coordinates efforts for the timely and uniform collection and release of data on race/ethnicity and other relevant demographics including poverty and geography for COVID-19 cases and deaths in order to further identify health inequities and mobilize resources to address the disproportionate impact on Black communities and other marginalized racial groups.
In the tradition of the prophets of every generation and Jesus, we will continue to speak hope into this situation of death and suffering of our people who daily have to navigate assaults against their human dignity -- the right to clean water, clean air, affordable housing, access to health care and a fair and just judicial system. We cannot and will not be silenced, for no virus or physical distancing can separate us from our call to challenge nations to care for the least of these among us.
Sincerely,
Bishop William J. Barber II, D.Min.
Pastor, Greenleaf Christian Church
President, Repairers of the Breach
Goldsboro, North Carolina
Rev. Dr. Frederick Douglass Haynes III
Pastor, Friendship-West Baptist Church
Dallas, Texas
Rev. Eddie L. Anderson
Pastor, McCarty Memorial Christian Church
Los Angeles, California
Rev. Traci Blackmon
Senior Pastor, Christ The King United Church of Christ
Florissant, Missouri
Dr. Amos C. Brown
Pastor, Third Baptist Church
San Francisco, California
Rev. Dr. Leslie D. Callahan
Pastor, St. Paul's Baptist Church
Philadelphia, Pennsylvania
Rev. Eddie Carthan
Pastor, Good Samaritan Ecumenical Church
Tchula, Mississippi
Bishop Yvette Flunder
Pastor, City of Refuge United Church of Christ
San Francisco, California
Rev. Dr. Cynthia L. Hale
Senior Pastor, Ray of Hope Christian Church
Decatur, Georgia
Rev. Terry Melvin
Associate Minister, Second Baptist Church
Lackawanna, New York
Rev. Lionel Murphy
Pastor, Tchoupitoulas Chapel
Reserve, Louisiana
Rev. Dr. Gina Marcia Stewart
Pastor, Christ Missionary Baptist Church
Memphis, Tennessee