To:

ICE St. Paul Field Office Director and ICE Director, Sarah R. Saldaña
Stop the deportation of beloved Iowa pastor and community member Max Villatoro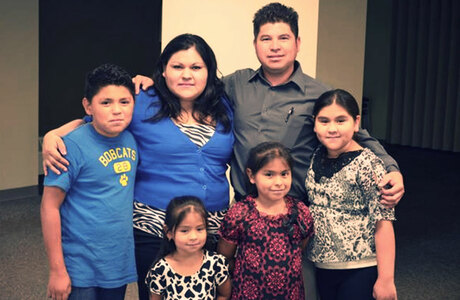 Stop the deportation of Pastor Max Villatoro. Immediately release him from detention and grant him a stay of removal so that he can return to his wife and four U.S. citizen children – and serve his Iowa City congregation.
Why is this important?
Pastor Max was detained early in the morning on Tuesday, March 3, by ICE (Immigration and Customs Enforcement) as he stepped outside his family's home. He wasn't given a chance to say goodbye to his wife and four U.S. citizen kids – Anthony, Edna, Angela, and Aileen.
Max is the pastor of the Iglesia Menonita Torre Fuerte (First Mennonite Church) in Iowa City. He has lived in the U.S. for more than 20 years. Max was originally targeted for deportation because of an immigration identification related charge from 1999. His detention is absolutely devastating to his family, his church and the community where he has been a leader for years.
Pastor Max is a model of what it means to be a servant leader in his community. He has worked for years to strengthen Iowa City and to care for his neighbors. Each day he demonstrates incredible compassion, faith and character.
In February, President Obama said that ICE officials would be held accountable for deporting individuals who qualify for relief. As a pastor, community leader and father of U.S. citizen children, Max clearly presents no public safety or security threat and therefore might qualify for relief through the President's recent immigration executive order. And, even though a federal judge has temporarily delayed some of the President's immigration actions, ICE guidelines state that immigrants like Max should not be a deportation priority. Max should not be deported before he has a chance to qualify for relief.
Together, we must stand with a father like Pastor Max, otherwise his children and our country will lose an incredible man who makes us all better people.
– Tammy Alexander, Mennonite Central Committee U.S. Washington Office
and Karla Stoltzfus Detweiler, First Mennonite Church, Iowa City, Iowa