To:

Chairs and Ranking Members of House and Senate Budget Committees
Support a Budget That Helps People in Poverty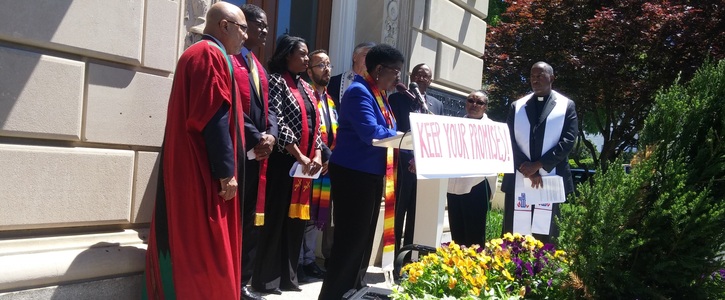 June 2017
The Honorable Mike Enzi
Chairman
Senate Budget Committee
Washington, D.C. 20510
The Honorable Bernie Sanders
Ranking Member
Senate Budget Committee
Washington, D.C. 20510
The Honorable Diane Black
Chairman
House Budget Committee
Washington, D.C. 20515
The Honorable John Yarmuth
Ranking Member
House Budget Committee
Washington, D.C. 20515
Dear Chairs and Ranking Members,
We are a network of African American denominations and independent church leaders, representing congregations from across the country. We care deeply about many issues facing our country and world, but ending hunger and poverty is a top priority that we all share. We also believe that the federal budget is a moral document, which reflects the values and highest priorities of our nation.
The budget proposed by the Administration does not reflect a moral commitment to the vulnerable and oppressed. Nearly three-fifths (59 percent) of the Administration's budget cuts would come from programs that provide the basics and improve upward mobility to low- and moderate-income families. These cuts will inevitably lead to increased hunger and hardship for millions of Americans, and will have a disproportionate impact on African Americans; who are between two and three times as likely to experience hunger and poverty as the general population . As you wrestle with budget decisions we ask you to prioritize individuals and families struggling to climb out of poverty and put food on the table.
In addition, the Administration's budget makes cuts that will cripple civil rights protections for African Americans, devastate communities and erode the progress that has been made toward justice and equity over the last 50 years. In this budget, severe cuts to the civil rights divisions of federal agencies and programs that have benefited African American families and communities are eliminated or hampered by deep funding cuts. In particular, the elimination of the Minority Business Development Agency, Legal Services Corporation, Low Income Home Energy Assistance Programs, the Department of Justice's environmental justice program and Community Development Block Grants as well as the abysmal decreases to funding in public education, Pell Grants, afterschool programs, TRIO programs, Job Corps and Women, Infants and Children (WIC) nutrition assistance programs will disproportionately and adversely impact African Americans. While we all hope for a day when racial disparities will no longer be a factor in American society, this budget not only impedes progress but, if passed, it will create a backward trajectory that will take generations to undo.
Specifically, we urge you to: Pass a bipartisan budget agreement that addresses sequestration in a balanced and responsible manner, preventing cuts to mandatory and discretionary programs serving people in poverty and safeguarding civil rights programs and protections for African Americans.
Notably, African American congregations across America actively work to end hunger in their communities through food pantries, soup kitchens, and community outreach programs. Despite these efforts, we know churches and charities alone cannot end hunger. Food benefits from federal nutrition programs deliver nearly 20 times the amount of food assistance provided by private charities. Cutting SNAP and taking away vital poverty assistance from children, seniors, low-wage workers, and persons with disabilities will not address the larger economic trends or create more jobs with adequate wages. Instead, this type of budget will punish those struggling to get by.
Finally, cuts to federal discretionary programs have already impacted millions of low-income families. Since 2013, because of the sequester, 57,000 children were turned away from Head Start, more than 100,000 low-income individuals and families lost rental assistance, and nearly 70% of Meals on Wheels programs had to drop the number of meals they served to poor seniors.
Our faith compels us to conclude that the Administration's budget violates the values Jesus embodied. We hope that you will tread lightly and protect funding for programs that empower the poor and vulnerable when determining topline numbers for fiscal year 2018. Again, thank you for considering our request. We look forward to working with you in building a world of hope and prosperity for the future of all God's children, including our own.
Thank you!
Sincerely,
1 "Hunger and Poverty Among African Americans." Bread for the World. February 2017.
hBp://www.bread.org/sites/default/files/african-american-fact-sheet-february-2017.pdf
Why is this important?
During a time when the basic rights of individuals in our community are under siege, our faith calls us to take action.