To:

ICE Field Office Director Sean Gallagher
Tell ICE: Let Pastor José Be! #SanctuaryNow

Sanctuary Movement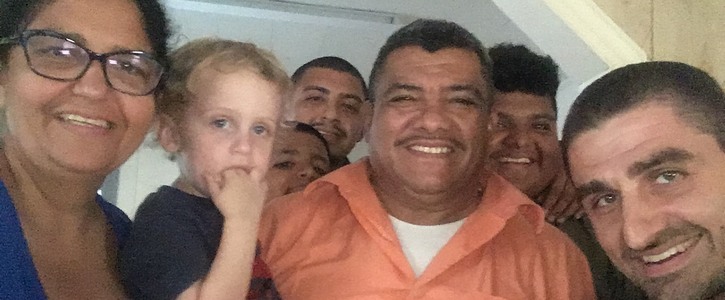 Pastor José Chicas has served his family and community for two decades. The government's limited resources should not be used to deport him.
We urge you do everything in your power to lift the cloud of deportation from Pastor José so that he's not torn apart from his family, his congregation, and his community in North Carolina.
Why is this important?
The School for Conversion (SFC), a Durham-based religious education center committed to "making surprising friendships possible," has joined together with the Rev. Dr. William J. Barber, II, and a coalition of religious and community-based partners to make a public announcement of why we have offered sanctuary to Pastor José Chicas.
Chicas fled his native El Salvador during its civil war in the 1980's, seeking asylum in the United States. In the 1990s, before Chicas and his wife experienced a spiritual conversion, he struggled with alcoholism. During that time, he was charged with and pled guilty to driving under the influence and domestic abuse.
But 20 years ago, Chicas reconciled with his wife, received a call to preach, and has served his family and community in North Carolina for two decades. Under the new aggressive immigration enforcement policies of the Trump administration, Chicas has been targeted as a "criminal" by Immigration and Customs Enforcement, which ordered him to leave his family and congregation last Tuesday without any hope of ever returning.
"My congregation is calling, asking me, "'When can you come back? We miss you,'" said Jose Chicas, who pastors Iglesia Evangelica in Raleigh, NC.
"I met Pastor Jose through his son, Ezekiel, who shared about how his father was to be deported the day before he was scheduled to graduate from a Wake County Elementary school," said Rev. Barber. "The Jesus I follow had to immigrate to Egypt when he was a child, where neither he nor his parents had papers. When he grew up, that same Jesus said to his followers, 'I was a stranger and you welcomed me.' As a disciple of that brown-skinned Palestinian Jew, I don't have any option but to embrace Jose and his family."
Please join Rev. Barber, myself and other community partners in asking that ICE grant Pastor José relief by signing and sharing this petition.