To:

Mayor Kenney and Police Commissioner Ross
End Discriminatory Car Towing in Philadelphia / Fin al Remolque Discriminado de Carros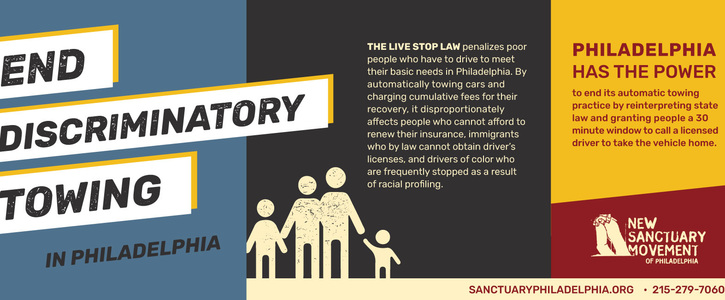 [Español Abajo]
Dear Mayor Kenney and Police Commissioner Ross,
As residents of Philadelphia we urge you to change the Live Stop program in order to end discriminatory towing, and build strong relationships for a safer city. We urge you to:
1. Reinterpret the state law so that Philadelphia Police officers do not tow away the car, but instead allow the driver 30 minutes to call someone with a driver's license to take the car.
2. Work with a team of immigrant community members to train Philadelphia Police officers about issues faced by immigrant communities, including the inability to obtain a driver's license because of state law.
***********************************************************
Estimado Alcalde Kenney y Comisionado Ross,
Como residentes de Philadelphia les pedimos urgentemente que cambien el programa de Live Stop con el fin de poner fin a la remolcacion discriminada de carros, y asi construir relaciones sólidas para una ciudad más segura . Le hacemos un pedido urgente que:
1. Re-interpreten la ley estatal para que los Oficiales de Policía de Philadelphia no remolquen el carro, sino que den al conductor 30 minutos para llamar a alguien con una licencia de conducir para recoger el carro.
2.Trabajen con un equipo de miembros de la comunidad inmigrante para entrenar a los Oficiales de Policía de Philadelphia sobre problemáticas que enfrentan las comunidades de inmigrantes, incluyendo la inhabilidad de obtener una licencia de conducir debido a la ley estatal.
Why is this important?
[Español Abajo]
• Live Stop towing is financially crippling for low-income families. An average Live Stop tow costs $500 to $1,000 in fees and tickets. If a driver cannot pay, or is scared about being undocumented, and does not claim their vehicle within 15 days, the car is sold at public auction.

• Live Stop towing leaves families on the side of the street in the middle of the night, putting people in danger. The fear of being pulled over or losing a car has an emotional and mental impact on people.
•Philly grew for the first time in 50 years because of the immigrant population. Immigrants are key to a thriving city and help the growth of Philadelphia through starting new businesses, paying taxes, and enriching the city's culture. Live Stop towing undermines these benefits.
• Nearly half a million Philadelphia residents have been affected by Live Stop since 2002. This has a disproportionate effect on undocumented immigrants who are barred from obtaining driver's licenses in Pennsylvania. Reinterpreting the law will have a tremendous impact on the lives of immigrants and all low-income families in Philadelphia.
• This is an opportunity for Philadelphia to be a leader in the state and country. While we work on a statewide campaign for driver's licenses for all immigrants, regardless of immigration status, Philadelphia can take a concrete step that will alleviate the negative impacts of not having a license.
*******************************************************************************************************
• El remolque de vehículos tiene un efecto financiero agobiante para las familias de bajos ingresos. El costo estimado por un encuentro con Live Stop es de $ 500 a $ 1.000 en cargos y multas. Si el conductor no puede pagar, o tiene miedo por ser indocumentado, y no recupera su vehículo dentro de 15 días, el vehículo se vende en una subasta pública.
• El remolque de vehículos deja a los conductores en la calle en medio de la noche, poniendo a las personas en peligro. El temor a ser detenido o perder el vehículo tiene un impacto emocional y mental en las personas.
• Philadelphia creció por primera vez en 50 años debido a la población inmigrante. Los inmigrantes son clave para una ciudad próspera y ayudan a su crecimiento a través de la creación de nuevos negocios, el pago de impuestos, y enriquecen la cultura de la ciudad. El programa Live Stop que remolca los vehículos menosprecia estas contribuciones y beneficios para la ciudad.
• Casi medio millón de residentes de Philadelphia se han visto afectados por el programa Live Stop desde el año 2002. Esto tiene un efecto desproporcionado sobre los inmigrantes indocumentados que son excluidos de obtener una licencia de conducir en Pensilvania. La re-interpretación de la ley tendrá un tremendo impacto en la vida de los inmigrantes y todas las familias de bajos ingresos en Philadelphia.
• Esta es una oportunidad para que Philadelphia sea líder en el estado y en el país. Mientras trabajamos en una campaña para que el estado de PA otorgue licencias de conducir para todos los inmigrantes, independientemente de su condición migratoria, Philadelphia puede dar un paso concreto ahora para aliviar los efectos negativos de no tener una licencia.
How it will be delivered
We will deliver the petitions in person.