To:

President Trump and His Administration
Stand Up and Be Counted! 1000 Congregations Strong For Sanctuary

Sanctuary Movement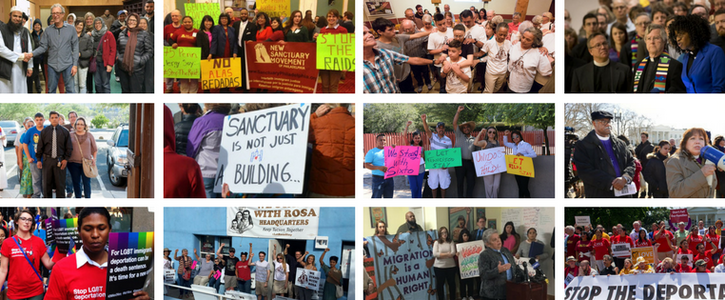 The sanctuary movement needs you to stand up and be counted today. We're working to have an organized list of all Sanctuary supporting congregations in the country to show more than 1,000 congregations are involved.
As affected people, and leaders of faith and conscience, we know that at least one thousand congregations stand ready to resist this administration's harsh anti-immigrant policies through the Sanctuary Movement.
Millions of us are being targeted for detention and deportation. For many being deported to unsafe conditions could have fatal consequences. We will continue to resist these unjust policies until everyone is afforded the same basic dignity regardless of birthplace.
-----
OJO: Para leer todo esto en español, haga clic aquí:
https://docs.google.com/document/d/1-YFbRZ_VaWEYfoW2PIi0gNl53dPRTHdrxomOSnq6YuQ/edit?usp=sharing
Why is this important?
If there ever was a time to stand up in support of sanctuary, it is now. Each congregation that stands up could be the difference that decides someone's future. The more of us that stand up, the more likely we'll be able to get the government to think twice before tearing our families apart.
The Sanctuary Movement provides a moral and prophetic platform for immigrant leaders to tell their stories and change the hearts of minds of the broader public. Anti-immigrant hate has no response to the power of faith and moral communities standing together with immigrants.
In the sanctuary movement, your denomination or spiritual background doesn't matter as long as you're committed to standing with immigrant leaders. The movement is multi-faith and open to all people of faith and moral courage who feel the call to act on their convictions.
There are so many congregations already involved that have yet to be officially counted. To get there and to show the power of the Sanctuary Movement, we want to get beyond 1000 congregations. Sign here to say your congregation supports sanctuary and encourage other congregations you know to do the same.
What is a Sanctuary Congregation?
A Sanctuary Congregation is one that chooses to take prophetic action and protect people through various actions that range from housing immigrants in immediate danger of deportation to providing legal assistance, accompaniment to court, organizing alongside us, and much more. If you're already doing some of this work, then you are a Sanctuary Congregation!
Sanctuary is also expanding to be in solidarity with all vulnerable populations in the Trump era at every level—including people of color, LGBTQ communities, Muslims and anyone who is facing discrimination from the current political crisis.
Now is not the time to hesitate. Sign here to stand up and be counted for Sanctuary.