To:

Jerry Falwell, Jr., Robert Jeffress, Paula White and Franklin Graham
We Challenge Trump's Evangelical Defenders To Live TV Debate About Faith & Public Policy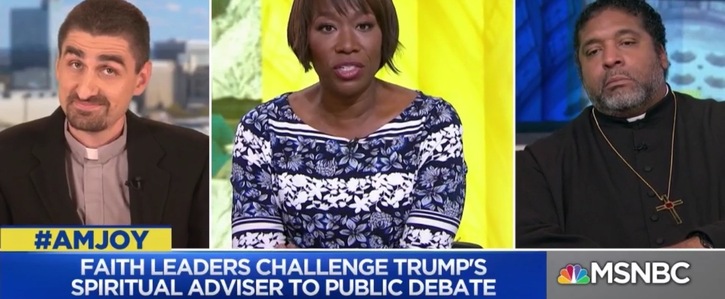 Dear Jerry Falwell, Jr., Robert Jeffress, Paula White and Franklin Graham,
We write in the name of our Lord Jesus Christ to invite you to join us for a round table about faith in the public square on live television. We know we do not agree on many issues, but we believe the church and the broader American public would benefit from a debate and discussion among us.
We recently posted an article that lays out some of our concerns about the public witness of some evangelicals and the absence of the gospel's call to liberate and bring good news to the poor in what we have heard you preach in the public square. We look forward to debating you on what the Bible says about these and many pressing issues of our day.
Why is this important?
As you can watch here (https://on.msnbc.com/2NX9ryx), MSNBC has offered to host this round table on faith in the public square. Please either respond to their producers who have reached out to you or let us know an alternate public venue in which you prefer to "give an answer for everyone who asks you to give the reason for the hope you have," as Scripture says we must always be prepared to do (I Peter 3:15).
Sincerely,
Bishop William J. Barber, II, Pres. & Sr. Lecturer, Repairers of the Breach
Rev. Dr. Liz Theoharis , Co-Director, Kairos Center for Religion, Rights & Social Justice
Bishop Yvette Flunder, Presiding Bishop, The Fellowship of Affirming Ministries
Minister Jonathan Wilson-Hartgrove, Director, School for Conversion