To:

Our Muslim and Jewish Siblings
When hate targets our neighbors, we stand together in solidarity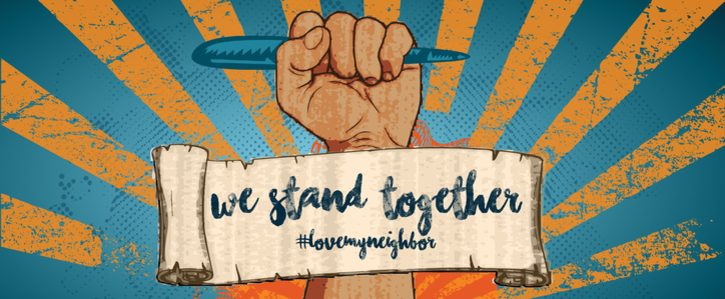 Commit to taking action in solidarity with your local Muslim and Jewish communities. Sharing a message of support that you #LoveMyNeighbor would be especially helpful given the unfair targeting and threats that Muslim and Jewish Americans are experiencing today.
Why is this important?
Our current political leadership has openly targeted, marginalized and discriminated against minority communities. It has been just weeks since the Trump Administration entered office, and a number of faith communities have already been shaken by their actions and orders. Our Muslim and Jewish neighbors have experienced ongoing threats of violence on our streets and in their places of worship. This is not acceptable.
Yet sometimes we become so focused on the resistance efforts that we forget to express our affirmation and solidarity with those who are being marginalized.
As people around the world seek to engage effectively, let us remember that in the context of incredible dehumanization, recognizing the humanity of one another is a powerful act of resistance. Affirming the dignity of the marginalized helps empower those who are being targeted, honors the diversity of our nation, and strengthens our own local communities.
We recognize that our sisters and brothers in faith are enduring oppression, and we stand with them in solidarity. By signing this letter, I commit to serving as an ally for those who are being oppressed, to reach out to my Jewish and Muslim neighbors, and to #LoveMyNeighbor.